This summer, Escada introduced a new limited edition fruity/flowery perfume named Fiesta Carioca. This new fragrance is designed to impress with its rich and long-lasting notes and designed to satisfy energetic and active ladies. As of the previous editions, ESCADA Fiesta Carioca perfectly describes the active Brazilian way of life.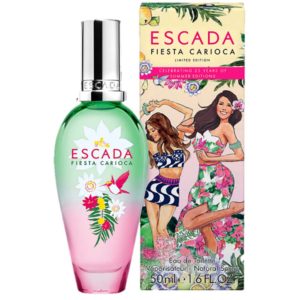 This woody/flowery sweet perfume opens to impress with exotic passion fruit, raspberry and Passion flower followed by sweet orange and jasmine notes that quickly calms on the body. The base indulges with musk, benzoin and cedar wood leaving behind a noticeable smell. Fiesta Carioca by ESCADA has the same bottle as the previous editions – very colorful inspiring an active and funny life.
Escada Fiesta Carioca is available in 30, 50 and 100ml Eau de Toilette.