In 2015 the fashion house of Prada launched a luxurious perfume collection with high-end ingredients and elegant fragrances. This luxurious collection is always extending with more eponymous perfumes, and this year it gets three more breath-taking new perfumes: Desert Serenade, Babylon and Moonlight Shadow. 
The three new perfumes of the Prada Olfactories preserve the same bottle design as the previous editions elegantly tailored adorned with golden labels on them – thus inspiring truly new sensations with the enchanting blend of exotic temptations.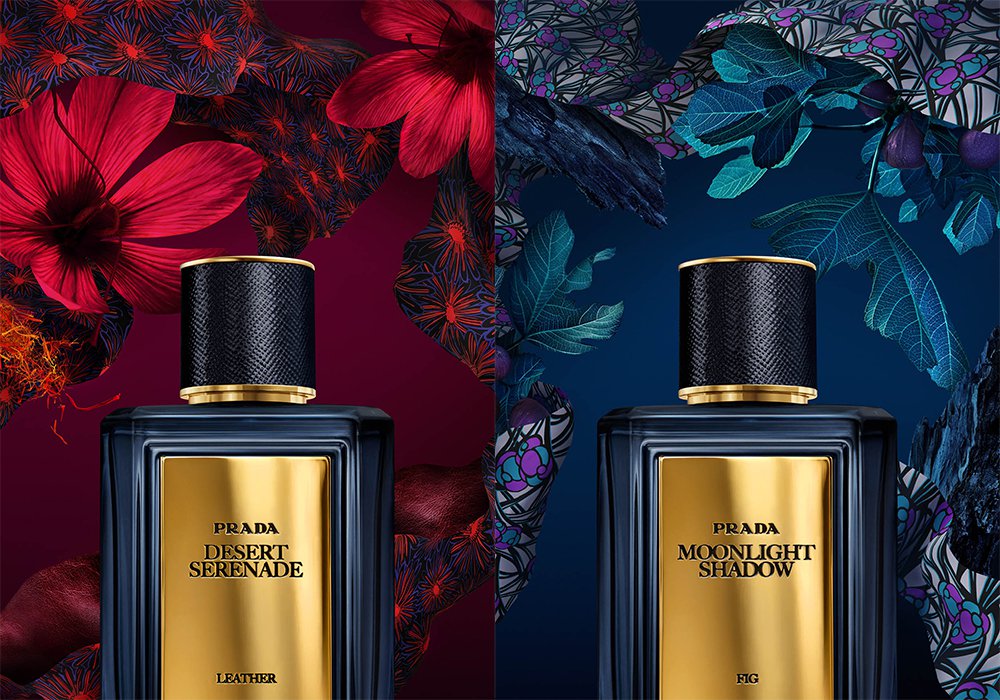 "Prada Olfactories Les Mirages is a collection of four new unisex fragrances that expand the universe of olfactive experimentation. Like the first les mirages collection, these draw on the tropes of travel that frame and modernize eastern fantasias. reminiscent of the sensations that one brings to a new territory, these fresh additions have a common profundity: the deep cultural value invested in scent. Working in collaboration with perfumer Daniela Andrier, Miuccia Prada started with the idea of fragrance-as-gift: concoctions made from raw elements; sensual essences imagined as precious cargo coveted by connoisseurs. Each cloud of comingling vapors is a sensory depiction of the world's far flung and fused conditions." via
Prada Olfactories Moonlight Shadow is a luxurious new perfume for both men and women with a nice mix of fig, cocoa along with woody notes of cedar and sandalwood. 
Prada Olfactories Desert Serenade is a luxurious and more elegant perfume made of oriental saffron note along with leather and sweet honey accord seasoned with cypress and musk. 
Prada Olfactories Babylon is a luxurious perfume with an oriental/woody perfume made of labdanum, sandalwood and amber. 
Prada Olfactories Mirages 2018 are available in 100ml Eau de Parfum.