Perfumes
Jill Stuart Crystal Bloom Moonlight Magic Perfume
Jill Stuart Crystal Bloom Moonlight Magic Perfume
admin
Perfume Info
Availability
In Production
This Christmas the fashion house of Jill Stuart is simply mesmerizing its wearers with a gorgeous and tempting new perfume for women Crystal Bloom Moonlight Magic sealed in an eye-catching bottle with an exclusive cap. The bottle is designed like a light snow sparkling and blinking during the night. What can be more thrilling and beautiful than to have such a unique and luxurious perfume?  
Jill Stuart Crystal Bloom Moonlight Magic is described as "a fantastic fragrance with the both the clarity of a winter night and the gentle warmth of the moon. The top notes give an impression of moonlight and fruit, where soft moonlight gently shines in a calm, quiet night. Bergamot, sweet pea and edelweiss express the pureness of a winter night with a sense of clarity. The floral middle notes evoke crystalline snow reflecting the light of the moon as it falls like petals. The sweetness of rose and heliotrope complement the pretty floral flowers to transport you to a world of fantasy. The end notes are the musk of the holy night where the world is gently embraced in blankets of snow. Tulle Accord is layered with light-as-snow, high quality fragrances, such as musk and sandalwood, which wrap you in gentle happiness that feels like the company of the one you love." via
It is more than just a perfume, it is a worth accessory with a breath-taking aroma to make a woman to be beckoned. Jill Stuart Crystal Bloom Moonlight Magic successfully launched this daring and sensual new perfume. 
Jill Stuart Crystal Bloom Moonlight Magic is available in 30 and 50ml Eau de Parfum and in matching body products.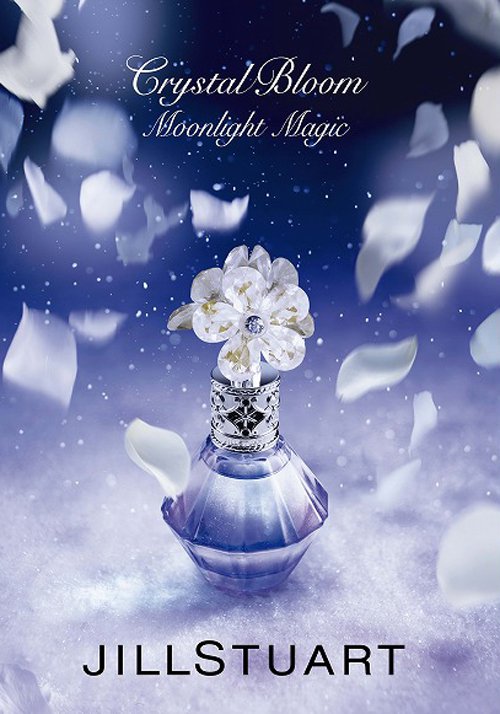 User reviews
There are no user reviews for this listing.