Perfumes
Giorgio Armani SI Nacre Sparkling Limited Edition Perfume
Giorgio Armani SI Nacre Sparkling Limited Edition Perfume
admin
Perfume Info
Availability
In Production
Giorgio Armani SI has become an icon perfume among other feminine fragrances due to its hot, fire and seductive aroma that constantly makes its a hit. Since it was first introduced it hasn't changed its distinctive aroma, yet the following editions come to be more modern, updated, fresher, and easier. When you get used to a fragrance, the following editions suits you at once, due to their notes that create an air of romance in any versions. This time, Giorgio Armani creates a new Si perfume for women: SI Nacre Sparkling limited edition. Like the original perfume, SI Nacre Sparkling Limited Edition perfume is a constant whirlwind of emotion - sensual, seductive, romantic and sexy. 
"Chic, playful, intense, and soft all at the same time. Sì Nacre Sparkling Limited Edition is a radiant women's perfume that leaves a sparkling effect on the skin. Achieve a perfect glow & dress your skin with the iridescent pearly shimmer of Sì. A perfume for women that is fresh, green and addictive in its initial impression, while the elegance of Freesia and the exquisite honey hues of Rose De Mai absolute make this perfume truly distinctive. The long lasting and sensual notes of Oakmoss and Patchouli softly define this fragrance as a captivating modern chypre. Sì is Italian for 'yes' – which makes it a perfect fragrance for an engagement or wedding gift. Circling the neck of the Sì perfume bottle is a polished gold ring that symbolises the promise of eternity. Limited edition by nature, Sì Nacre Sparkling Limited Edition makes a unique birthday gift." via
Giorgio Armani SI Nacre Sparkling Limited Edition is available in 50 and 100ml Eau de Parfum.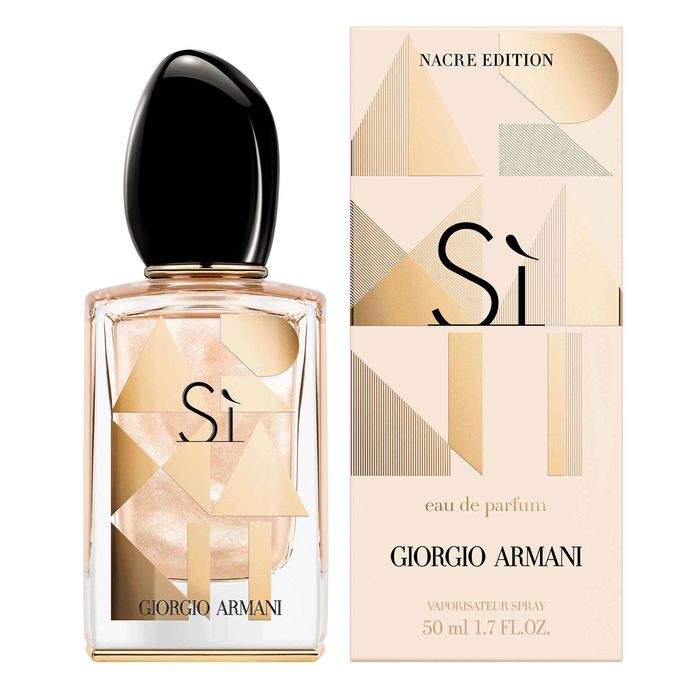 User reviews
There are no user reviews for this listing.