Perfumes
Armani Prive Musc Shamal Perfume
Armani Prive Musc Shamal Perfume
Hot
admin
Perfume Info
Availability
In Production
Armani Prive Collection is filling up with a new luxurious perfume Musc Shamal. The new perfume, Armani Prive Musc Shamal, as if invited you to wonderful and miraculous winds of never-ending dunes from Sahara desert. 
"Inspired by the intense and enveloping oriental wind it was named after, MUSC SHAMAL is the true olfactory embodiment of this radiant breeze. Giorgio Armani creates here a bewitching union of the sun's vibrant heat and the wind's alluring breath; an oriental ballad of contrasts. The iconic and mesmerizing musk theme is modernized with rose, offering a delightful contrast of elegant breeze and intense heat, creating a vivid and stimulating scent." via 
"Amber and cedar woods combine to create a powdery sensuality and passion, intensified by the subtle notes of vanilla. This combination is lightened by floral Rose and Jasmine, as the association of Noreenal, a modern aldehyde with a fresh, fruit and citrusy breeze, adds volume to the Musks cloud. An enveloping and captivating fragrance."
Armani Prive Musc Shamal has a nice aroma nicely balanced between oriental notes with floral accords to leave behind an attractive and seductive signature. This exclusive perfume is created by famous perfumer Julie Masse.  
Armani Privé Musc Shamal is available in the United Arab Emirates in 100ml Eau de Parfum.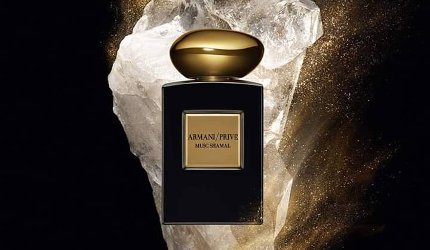 User reviews
There are no user reviews for this listing.