Perfumes
Anna Sui Fantasia Mermaid Perfume
Anna Sui Fantasia Mermaid Perfume
admin
The fashion house of Anna Sui launches a new perfume for women, Fantasia Mermaid - new flanker to Fantasia perfume launched in 2007. The new perfume, licensed by the Inter Parfums, has a gorgeous and breath-taking design cap decorated in gold Mermaid. The bottle makes this perfume really attractive and desired, rather the smell itself. Still, this perfume invites you to try a new elegantly fresh/floral aroma sweetened in the end. Anna Sui is always delighting its wearers with outstanding and flamboyant designs, as well as seductive and elegant fragrances. This time, the new perfume is creating an air of romance. Anna Sui Fantasia Mermaid is a fresh floral/oriental scent made of citrusy notes along with jasmine, peony and spice cardamom seasoned and calmed on a woody base made of vanilla, wood and honey.    
Anna Sui Fantasia Mermaid is available in 30 and 50ml Eau de Toilette.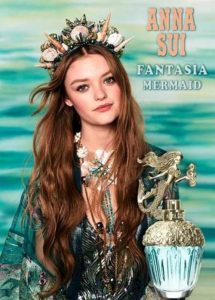 User reviews
There are no user reviews for this listing.